Course details
"Tazine course" 2H Drinking and drinking 4,500 yen ◆ + 1,000 yen Selected select wine also drink!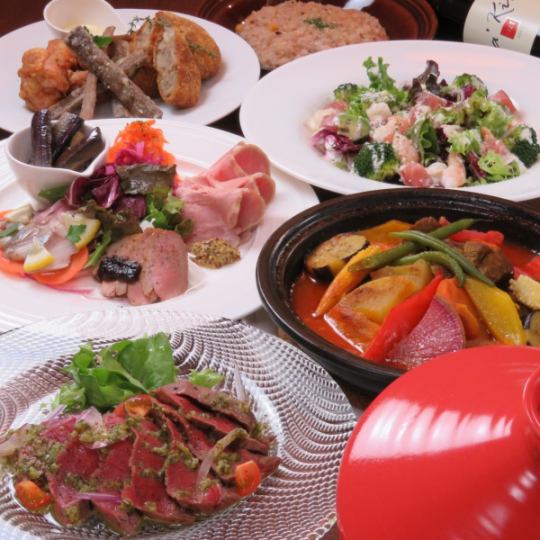 By using a coupon4500 yen
(tax included)
All-you-can-drink available

All you can drink sommelier select wine at +1000 yen! All you can drink wine recommended on that day!
Reservation deadline

2 days before the desired store date until 23 o'clock
Available days for reservation

Monday - Sunday - Public holidays - Holidays
It is a course of popular Osan cuisine made mainly of Osan famous Tagine saucepan.All you can drink beer and sommelier's recommended wine! You can also add core wines selected for sommelier as you like to the unlimited drinks at +1000 yen.We are waiting for everyone.
Course menu
■ Select four types of appetizers (Osan homemade roast ham, sweet riet, putty campagne, carrot rape, purple cabbage marinade etc).)
■ Special O'SSAN Salad (Original carrot dressing delicious salad)
■ Homemade roast beef
■ golden tagine / chicken (condensed with vegetables and chicken umami in anhydrous cooking, golden soup with spice effect is outstanding)
■ Shrimp with tomato cheese risotto
■ Seasonal Sorbet
Please reserve by 23 o'clock two days before.
※ Drink Last order is 15 minutes ago.
There are some changes in the course depending on the purchase content.
All-you-can-drink menu
Beer
· SAPPORO "EBISU" · Kirin's best squeezing bottle · non alcoholic beer
· ◆ Beer cocktail
· Red Eye · Shandigafu
· ◆ Cocktail
· Cassis Orange · Cassis Grape · Peach Oolong · Peach Oolong · Dewers Highball · Moscow Community · Gin Tonic
· Non-alcoholic cocktail
· Non Passion Ginger · Non French Soda · Non Grapefruit Tonic
· ◆ Soft drink
· Ginger Ale · Coca Cola · Orange Juice · Grapefruit Juice · Apple Juice · Tomato Juice · Black Oolong Tea
· All you can drink Sommelier select wine at +1000 yen
· All-you-can-drink wine of the day is also available! So sommelier enrolled, please feel free to ask our guests!
2018/11/13 update