Course details
Carefully selected bistro course ★ 2H drinking with attached ◆ 6500 yen ◆ + 1000 yen Selected select wine also drink!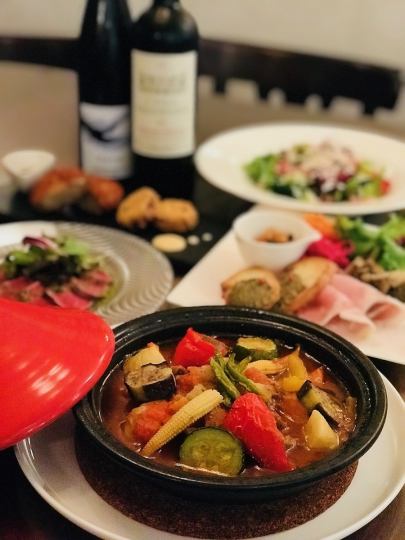 By using a coupon6500 yen
(tax included)
All-you-can-drink available

All you can drink sommelier select wine at +1000 yen! All you can drink wine recommended on that day!
Reservation deadline

Coming up to 2 days before 23 o'clock in the desired date
Available days for reservation

Monday - Sunday - Public holidays - Holidays
Those who want to spend precious time with important people, those who want to party a little luxuriously, are full-course courses boasting solid dishes that match wine.You can enjoy from appetizers to main and dessert! Tamjin of lamb meat only on this course! Serve with exquisite wines.
Course menu
■ Appetizers three
■ Today's soup
Grilled vegetables
■ Today's carpaccio
■ o'ssan spare rib
■ Domestic Wagyu Beef Roast ~ Madera Sauce ~
■ Risotto with scallops and Edamame
■ Rich! Gateo Chocolat & Vanilla Ice
Please reserve by 23 o'clock two days before.
※ Drink Last order is 15 minutes ago.
All-you-can-drink menu
· ◆ Beer
· SAPPORO "EBISU"
· ◆ Beer cocktail
· Red Eye · Shandigafu
· ◆ Cocktail
· Cassis Orange · Cassis Grape · Peach Oolong · Peach Oolong · Dewers Highball · Moscow Community · Gin Tonic
· Non-alcoholic cocktail
· Non Passion Ginger · Non French Soda · Non Grapefruit Tonic
· ◆ soft drinks
· Ginger Ale · Coca Cola · Orange Juice · Grapefruit Juice · Apple Juice · Tomato Juice · Black Oolong Tea
· All you can drink Sommelier select wine at +1000 yen
· All-you-can-drink wine of the day is on sale! So sommelier enrolled, please feel free to ask our guests!
2018/11/13 update